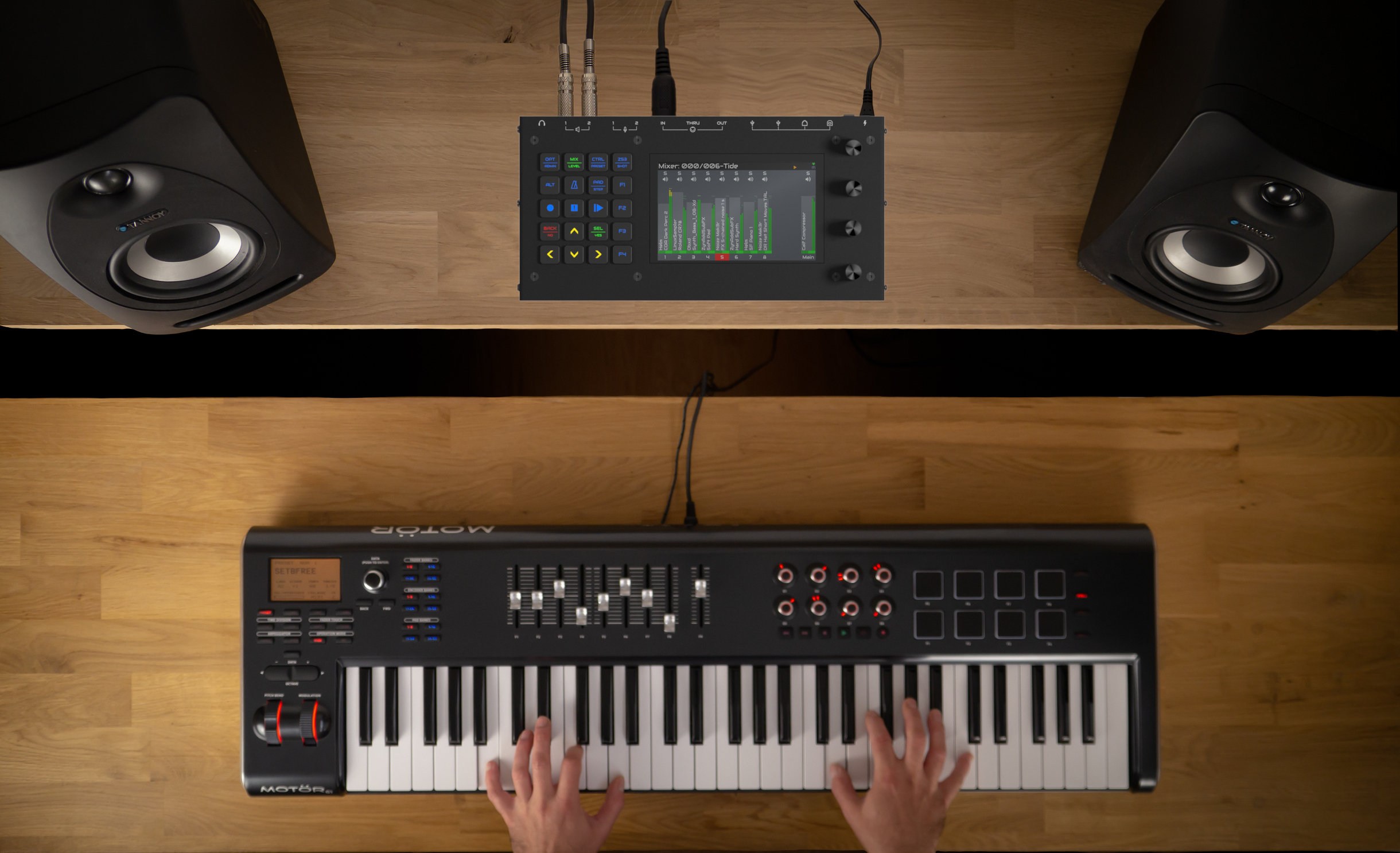 Open Synth Platform
Imagine having all the sounds you ever dreamed of in the palm of your hand.
Open Synth Platform
Imagine having all the sounds you ever dreamed of in the palm of your hand.
Concept
Zynthian is a new class of musical device. A powerful
multitimbral synthesizer and audio processor
, capable of managing up to 16 audio chains simultaneously. Also, it's a MIDI processor and router, equipped with standard MIDI ports, USB, WIFI & wired networks. It features:
Accurate Emulations of Classic Instruments: Grand piano, Rhodes, Wurlitzer, pipe organ, Hammond organ, combo organ, Minimoog, DX-7, Oberheim OB-X, JX-10...
Amazing Virtual Analog Synthesizers: ZynAddSubFX, Helm, NoizeMaker, Surge, AMSynth, SynthV1, PadthV1, ...
SoundFont support: SF2, SF3, SFZ and GIG formats are supported. A >4GB collection of soundfonts is included.
Lots of Effects: Reverb, delay, echo, chorus, distortion, EQ, compressor, wahwah, flanger, phaser, granulator, vocoder, auto-tune...
MIDI filters & tools: Map, chorder, arpeggiator, LFO, sequencer, quantization, split, velocity map, ...
Step Sequencer: A powerful step sequencer is integrated, allowing to use the unit as a standalone groovebox or to drive external synthesizers.
Live Looping Sampler: It integrates the Sooper Looper engine, capable of immediate loop recording, overdubbing, multiplying, reversing and much more.
Audio & MIDI recorder/player: Easy audio & MIDI recording. Multi-track audio recording is supported too.
You can use it for live performing, studio production or as a tool for sound discovering and exploration.
Zynthian is a community-driven project and it's 100% open source. Free software on Open hardware. Completely configurable and fully hackable! Free as in Freedom.
An open platform for sound synthesis & processing.
Keyboard Expander

Let your fingers play the sound you want.

Acoustic & electric pianos, organs, vintage synthesizers, virtual analog synthesizers, soundfonts, ...

Your browser does not support the audio tag.
MIDI learning is quick & easy, allowing you to manage everything from your MIDI keyboard/controller. [Learn More]

Effects Unit

Would you like a custom FX-chain for every song?
A full-featured looper?

Sooper Looper, reverbs, echoes, delays, choruses, flangers, phasers, distortions, EQs, compressors, wahs, grains, vocoders, autotune, ...

Your browser does not support the audio tag.
The Zynthian UI allows to create simple FX-chains. With MOD-UI you can create the more bizarre pedalboards you ever imagined. [Learn More]

Studio / Production

A powerful tool in a small container

It's fully multi-timbral and it integrates a step-sequencer designed for live-performing and song composing.
MIDI learning, MIDI network, MIDI filter & tools, audio & MIDI recorder ...

Your browser does not support the audio tag.
Explore sonic landscapes and go beyond the limits with Pure Data generative capabilities. [Learn More]
Build your Zynthian
Zynthian is not available as a finished product. You have to build your own unit. But don't be afraid! It's an easy task that anybody can carry out, and you get a bunch of advantages by doing this way:
You can repair your unit. Every single part is available separately.
You can customize your unit, adapting it to your needs.
You can upgrade your unit, re-using parts, reducing waste and saving money.
Moreover, you may learn something interesting in the process.
You can choose between building your device from scratch or buying one of the kits that we offer, adapted to the different skill levels.
V5 Kit
The easy way. Simply plug the wires & tighten the screws.
V5 Main Board
Do it your way! Build your custom zynthian.
Hardware
Based on Raspberry Pi and Open Hardware
Balanced Stereo Audio Input/Output, up to 192 KHz
MIDI-IN/THRU/OUT
Touchscreen 3.5"
4 x Rotary encoders + Push switches
[More...]
Software
Based on GNU-Linux and Free Software
Real-time audio processing, low latency & jitter
Multi-engine / Multitimbral / Multi-layer
Remote Control & Web Configuration Tool
[More...]